Biography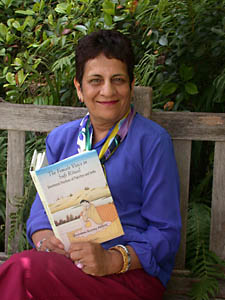 I am a specialist in international law, political science, Islamic studies, oral culture, mnemonics of the Qur'an, and Sufism. I additionally specialize in linguistics, ethnomusicology, literature and gender studies, my focus being on South Asia and the Middle East. My published research, based on the above and on proficiency in the Pakistani and Indian languages, is in interdisciplinary areas such as blasphemy and heresy laws in pre-Islamic, pre-modern and contemporary Islamic societies, linguistics, and gender in Sufi communication theory. I additionally have an interest in creative writing. My most recent book is Pakistan's Blasphemy Laws: From Islamic Empires to the Taliban (University of Texas Press, 2013). Another book, which has received wide international recognition, is The Female Voice in Sufi Ritual: Devotional Practices of Pakistan and India (University of Texas Press, 2002; Oxford University Press, 2003). I authored Qissa Khwan (Storyteller), which is a collection of short stories for schoolgirls (UNICEF, 1994). My PhD dissertation was titled Speech Play and Verbal Art in the Indo-Pakistan Oral Sufi Tradition. I specialize in women's rituals in Islamic societies: "Sakineh: The Narrator of Karbala," in The Women of Karbala: Ritual Performance and Symbolic Discourses in Modern Shi'i Islam (2005), is my significant publication in this area. Among other publications are articles on the politics of language, literary orality, and aesthetics in South Asia.
As a consultant for the National Endowment for the Humanities I assisted to complete a recent documentary project on Pakistani female singers, "From the Melody Queen to the Muslim Madonna." Currently, I am a consultant for "Siren Song: Pakistani Women Singers."
An ongoing project is A Kashmir Memoir: Operation Gibraltar, 1965. The manuscript is under submission. This memoir is based on letters that my husband, a commando officer of the Pakistan Army, wrote to me before he crossed the line of control into Indian-held Kashmir in 1965. He never came back. A Memoir of Kashmir emerges from a novella, "The Wedding-Guest," which was submitted as a thesis for a master's degree in creative writing from the University of Texas at Austin in 2002.
Currently, I teach political science, gender studies, and literature at the State University of New York at Purchase College, where I was invited through the Scholars At Risk Program and Institute for International Education, SRF, in 2005. Prior to joining Purchase College I taught in the Department of English at the University of Texas at Austin, where I had been based since 2000. Additionally, I have taught in Saudi Arabia and Pakistan. A major part of my academic career was spent with the Allama Iqbal Open University in Islamabad, where as chair of the department of English Language and Applied Linguistics I worked with American and British consultants during the Cold War when Western countries together with the mujahideen, now Taliban, combated Soviet forces in Afghanistan through jihad. It was then that we developed the largest teacher-training program in South Asia through graduate English-language courses and language-planning policies for the Pakistani government (1980-2000). My recent book, Pakistan's Blasphemy Laws, is an insider's experience working for the Pakistani government when madrassa-seminary education was institutionalized and Islamic colonization began. The Allama Iqbal University was in the vanguard that disseminated madrassa education through its Dars-e Nizami courses. Furthermore, I pioneered women's educational programs in English, both in Pakistan (1969-2000) and Saudi Arabia (1977-1978).
I have received the Doris and Karl Kempner Distinguished Faculty Award (2017), the Juanita and Joseph Leff Distinguished Senior Faculty Award, the Pakistan Government Overseas Training scholarship, the British Commonwealth Overseas Training scholarship, the James E. Michener Fellowship in creative writing, and the United Nations International Children's Educational Foundation award in creative writing, as well as research fellowships from the Institute for International Education and the American Institute for Pakistan Studies. Additionally, I received training fellowships in the United Kingdom, Singapore, and the United States. I am a consultant to the National Endowment for the Humanities.
My alma maters are The University of Texas at Austin, where I received a PhD in applied linguistics in 1992; additionally, a master's in creative writing from the same university was granted in 2002. In 1968 I was awarded a Master's in English from Leeds University (United Kingdom). An earlier education in Pakistan enabled a Master's and Bachelor's with honors in English literature from Panjab University, Lahore. I studied philosophy and political science as electives.
I additionally trained with London University, Institute of Education for Developing Countries, the British Open University, the BBC, and Sterling University (1982). I travel extensively to present papers at national and international conferences. I am an invited speaker to seminars on international law, Islamic studies, Sufism, women and gender studies, and human rights.
I support the work of nonprofit organizations such as Scholars at Risk at New York University, the Institute for International Education in New York, Memorial Sloan Kettering Cancer Center, the American Cancer Society, the Cancer Support Group in Westchester, National Pubic Radio, and Public Broadcasting Service. Furthermore, I sponsor some women's education in Pakistan. I oblige international students through interviews on their research projects, say for instance one recent one of a qawwali project for Flame University in Pune, India.
---
Read about and purchase Pakistan's Blasphemy Laws: From Islamic Empires to the Taliban.
Read about and purchase The Female Voice in Sufi Ritual: Devotional Practices of Pakistan and India.
---